Canadian Show Jumping Tournament
27/09/2009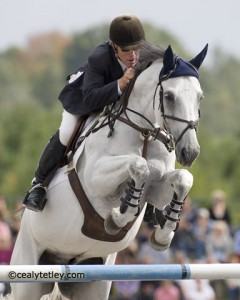 Palgrave, Ontario – Hugh Graham of Schomberg, ON, won the $100,000 Caledon Cup Final held Sunday, September 27, to conclude the inaugural CSI2*-W Canadian Show Jumping Tournament at the Caledon Equestrian Park in Palgrave, ON.
In addition to offering $30,000 in prize money to the winner, the $100,000 Caledon Cup Final acted as a qualifier for the 2010 World Cup Final to be held in April in Geneva, Switzerland.
A total of 28 horses attempted the first round track set by course designer Bernardo Cabral of Portugal, who drew rave reviews for his work throughout the week.  Although two of the first three competitors on course jumped clear but incurred one time fault, the time allowed of 85 seconds was not changed.
It proved to be the right decision as the fifth competitor, local favourite Erynn Ballard of Hillsburgh, ON, riding Robin van Roosendael, demonstrated that a clear round inside the time was possible.  Andres Rodriguez of Venezuela then ensured a jump-off with Secret and two more local athletes, Yann Candele of Caledon, ON, and Hugh Graham of Schomberg, ON, added their names to the list.
The stage was set for an exciting jump-off.  Ballard and her scopey Belgian Warmblood gelding opted for a conservative clear round which they executed in classic form, stopping the clock in 49.19 seconds.
Rodriguez, 25, was the next challenger with Secret, his 10-year-old grey Dutch Warmblood gelding.  The pair was moving at a quick pace, but a block came off the wall mid-way around the shortened course, followed immediately by another rail for eight faults.
Candele was next up riding Mustique, a 12-year-old Dutch Warmblood mare for owner Susan Grange of Cheltenham, ON.  Candele left all the rails in place in a time of 46.38 seconds to move into the lead.
As the final challenger, Graham steered Executive Privilege 3E around the course with tight turns and accurate precision.  Thousands of spectators held their breath as Graham cleared the final obstacle, then erupted into cheers as the scoreboard flashed the winning time of 45.37 seconds.
"I had a feeling it was going to be my day when I saw the order," said Graham who competed 26th in the 28-horse starting field.  "It is always an advantage to be last in the jump-off – you know exactly what you have to do.  He's a quick horse, and he turns so well."
Graham, 60, is a veteran member of the Canadian Equestrian Team and is the resident rider for Seymour Epstein's KingRidge Stables of King City, ON.  His mount, Executive Privilege 3E, was bred at KingRidge Stables, and is a nine-year-old grey Canadian Sport Horse gelding by Class Action out of Galaxy, the first foal to be born in the KingRidge Stables breeding program.
"He's a sweet horse," said Graham of Executive Privilege 3E.  "We broke him as a two-year-old, and he is just a baby, always giving you kisses and looking for treats.  This is one of the bigger tracks we've jumped, and I could not be happier to win."
As a local area resident, Graham acknowledged the importance of having an international show jumping tournament in the Toronto area, saying, "It is a super opportunity to jump at this caliber without having to go across the country.  We've got to give credit to the show organizers and management."
In addition to winning the $100,000 Caledon Cup Final, he also took home the Caledon Cup which is awarded to the top rider in both the $100,000 Caledon Cup Final and Friday's $32,000 Caledon Cup Open Welcome, Presented by Peel Maryborough and Aviva, where Graham and Executive Privilege placed sixth.
With Graham taking Sunday's victory, Candele settled for second.  Ballard was third, leaving Rodriguez in fourth.  With one time fault, Victoria native Karen Cudmore placed fifth riding the 11-year-old American-bred Holsteiner stallion, Southern Pride, owned by her husband, Blair Cudmore.  Ainsley Vince also exceeded the time allowed to place sixth with Frieda, an eight-year-old German-bred mare owned by the KMA Group.  Nine-time Olympian Ian Millar of Perth, ON, posted the fastest four-fault round riding Susan Grange's Redefin to place seventh.
The most touching moment of the week-long Canadian Show Jumping Tournament came when 2008 Olympic Silver Medal teammates Eric Lamaze and Ian Millar assisted in the presentation of a pony to 11-year-old Anna Edwards of Tisdale, SK, on behalf of the Children's Wish Foundation of Canada, the Canadian Show Jumping Tournament's charity partner.
"It is an honour for me to be here this weekend," said Olympic Champion Lamaze, who was making his only competitive appearance in eastern Canada this year.  "Myself, Ian, and the rest of our team members look forward to this event.  It is a great privilege for us to be able to give back to the Children's Wish Foundation."
The Canadian Show Jumping Tournament marked the final event of the 2009 season held at the Caledon Equestrian Park.  In addition to hosting several equestrian events annually, the Caledon Equestrian Park has been selected as the equestrian venue by the 2015 Pan American Games/Para Pan American Games Bid Corporation.
Source: www.startinggate.ca